I am reposting an old blog of mine with todays example.
Today you could see price of Bank nifty , despite a strong opening Entered a 30 to 35 point range for 3 hours. Now When we see this phenomena we have to exit Longs as there is no advantage after a zero zone. Prices can tilt in anybodys favour. So closed positions at cost to cost. Markets move coz of imbalance, and when there is no imbalance no point wasting time and Money. Knowing when not to trade is also a SKILL. Read below for more details.

Markets go thru trending phases, sideways phases, Reversal phases etc; You can trade all except for the Zero Zone Phase. Zero zone is where prices enter a narrow range making it impossible to place trades and get out with a good Risk reward scenario. Not only Risk reward the analysis of the next course of movement is also not clear while prices are in the zero zone.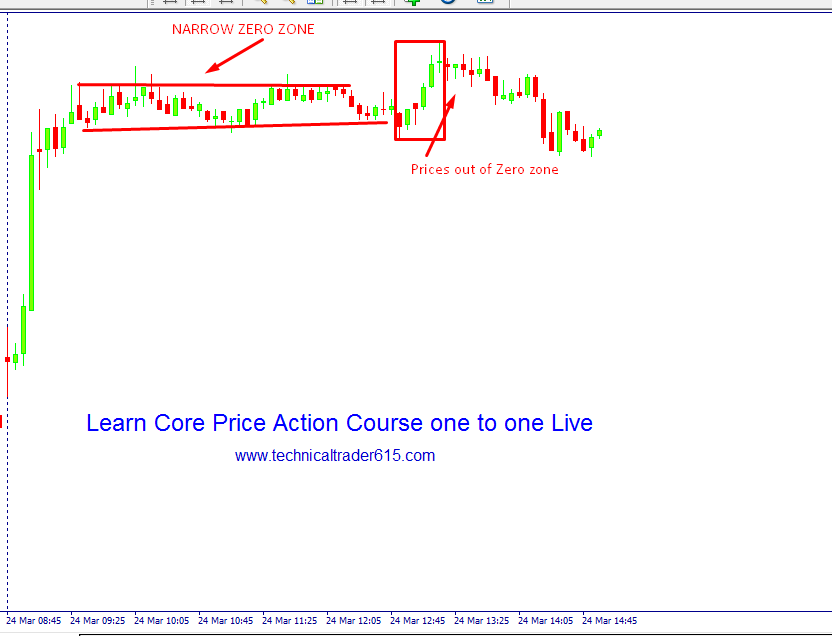 Old Post
The area marked within two lines is an example of zero zone. This Happened in Bank nifty yesterday Intraday 5 min charts. it was a narrow range of 30 points lasting approx 3 hours before a minor expansion came. In other words Bigger Zero zones are trading ranges which can be traded. But Smaller ones like yesterday should be totally avoided as no direction comes out of it. The strategy to follow is to wait for the zero zone to get over or range expansion to come and then analyze Prices.
I take one to one Price action Course and strategies indepth. If you want to discuss about that do call / watsapp at 7373339777 or 8508777733
for more articles visit http://www.technicaltrader615.com/price-action/technical-chart-analysis
Happy Weekend !!
Cheers !!
Your email address will not be published. Required fields are marked *