The Key to trading success is not some magical Entry, the Real key to success is how you EXIT.In other words how you manage a trade after a trade is placed. Exit defines a trader not Entry. Most of the newbie traders are looking for a trade Entry with Small Stop loss, coz they are mostly working out of fear or there are traders who set targets based on patterns and projections. If we do that we will always be a mediocre trader as we will be out of a good move even before it starts.
We need to let the PROFITS run. to do that we need to know where to Price exit in cases of reversals, And partial profit booking should be part of your trading process ( you like it or not)
I am sharing how I managed my trades today. I took with 8000 RPT ( risk per trade ) , My Regualr RPT is 16,000 rs a trade. Now today was a gap day and I would always do 50% of my RPT against a GAP day. So it was 200 units with 40 pt Sl. My Average SL is 40 to 50 pts in Bank nifty.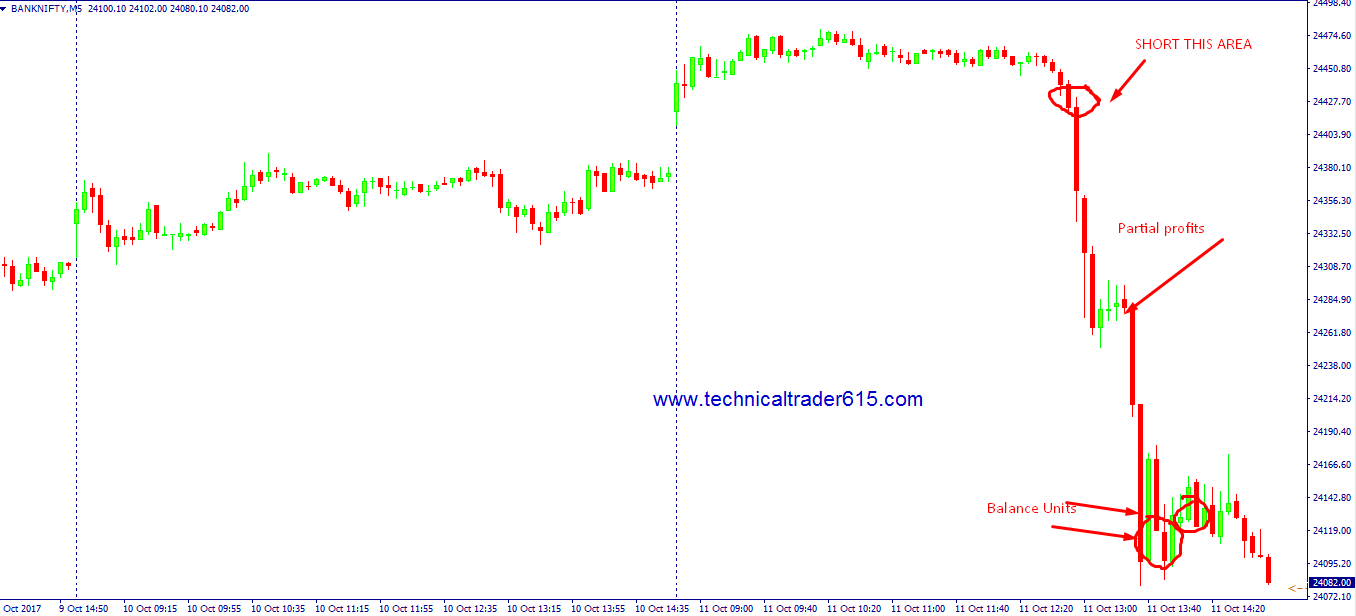 200 units of Bank nifty futures was short with 40 pt Stop loss
PARTIAL EXIT: A Partial Exit of 120 units was done at predfined number of points ( money mgmt based )

Balance : 80 units ( for runner)

One lot was given @ 300 points ( Price Action ( Exhaustion concept)) , the last was on MDB.


FInal mtm: 39,000
I am not happy to show MTM and all as most of us ( full time traders) make this kind of money every other day. What is important is how the trade was managed without emotional conflict. This takes Practice and CONFIDENCE in your system.
I trade Bank nifty for a living, 90% of my trades are Intraday with Price Action strategies. Price action can help you identify explosive moves even before it happens and mostly helps you on exit. A trader should also know money management, Position sizing, Pyramiding, to do the same.
I conduct one to one price action course online via team viewer and will give LIVE Support during market times. if interested do CALL / WATSAPP me at 7373339777 for more details.
Happy learning and Trading !!!
Cheers....
Your email address will not be published. Required fields are marked *