When market trends most traders stay away thinking Prices has gone too far or the move is over out of Sheer fear. Rather a trader should be alert and focussed to get into the momentum happening right now. The best way to start is to look out for a Gap up day or a Gap down stock by 11 30 and if prices still continue in the direction of the gap look out for Micro Double tops or Micro double bottoms. Micro Double tops are 2 peaks at a same junction. Generally happens by 12 to 1. The General structure is that they trend at open, then go into cooling period or what we call as periods of re accumulation or distribution and Break again to finish at the days low or high. We can catch the second rally. Why not the first rally ? As there are 100s of stocks which gaps up or down we really dont know which one is real. ( Though thru price Action we can ). Lets keep it simple as of now as a introductory into Basic price action based strategies.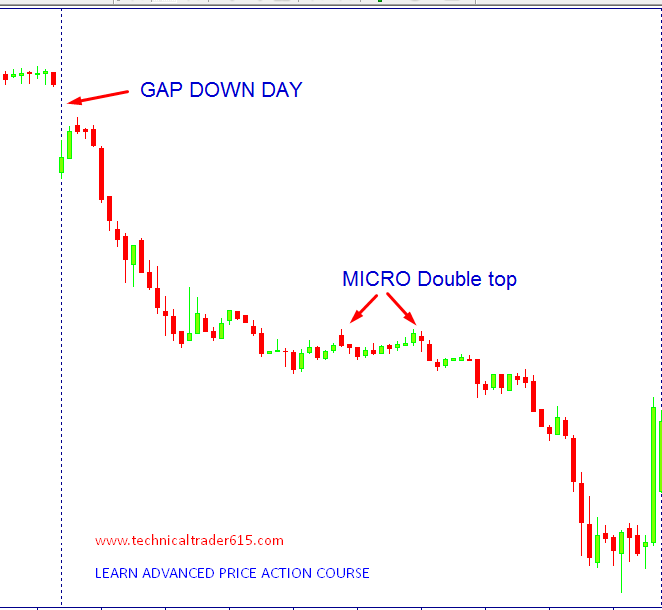 The above example happened in Bharat Forge last week. You can see there was a gap down and prices honoured the gap until 11: 30 . There was a Micro Double top and rest you know.
Its called a Micro Double top as the constructon of the same happens with less number of bars between 7 to 20 bars and it happens mostly when traders perceive as Trading range. As this is Micro this Should taken as a continuation pattern. This is very effective in trending markets.We dont use Indicators, RSI, DIvergence etc; Those things are lagging and will take you out in long term. If you want to learn to read and trade Raw Charts let me know and take my price action course online with LIVE trades together. You can watsapp me or call me at 7373339777 for more details. CIAO
Happy Learning and Trading !!!!
Cheers...
Your email address will not be published. Required fields are marked *