Types of Gaps and how do we trade it?
Gaps indicate buying pressure or selling pressure. A Gap is formed when market close at a particular price and opens wider at a different price the next day without actual trades being executed within that Gapped level. Lets say for example today "X" company trades and closes at Rs 100 and tomorow when market opens after the pre market the same "X" company opens at Rs 106 without even a single trade being executed within that range, we call it a Overnight Gap.
That means the Company "X' gapped 6 Points without a single trade being executed between 100 and 106. The reason for gaps could be over night news on industry, results etc. As technical trader we are not bothered about why it gapped up or down. We understand that there was an overnight pressure and we need to trade accordingly. However Gaps indicate a shift in the trend and hence one needs to learn how to trade them. You can join our Price Action course to learn and master this wonderful technical technique.
Now Gaps can occur over night and Gaps can occur Intraday. An example of overnight gap is shown below.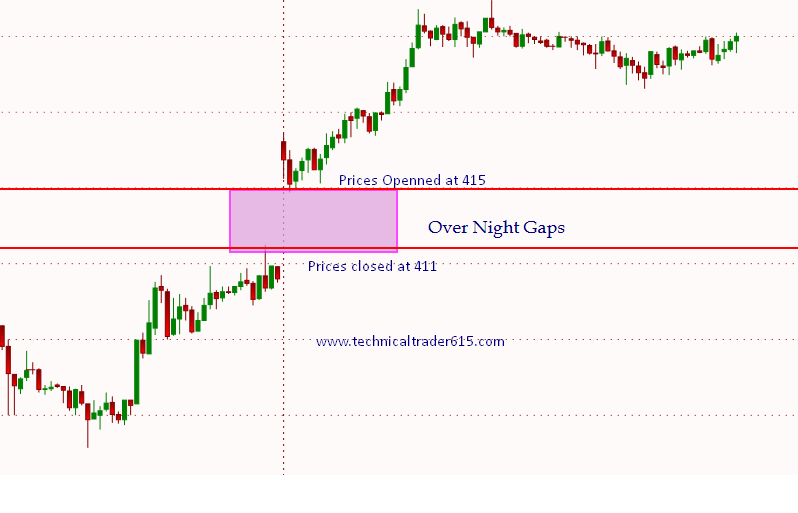 Intra Day Pressure Gaps
Now Lets understand Intra day Gap. Intra day gaps are technically pressure bars. In simple words Pressure bars are Trend Bars which opens & closes in the same direction, implying there is an urgency either at buyers or sellers end to take control of the trend that very moment.
A Trend bar can defined as the bar with strong closing and little or NIL tails on the opposite side. The bar is considerably big than the average numbers of bars present in the screen.
Example of Bull Trend Bar and Bear Trend Bar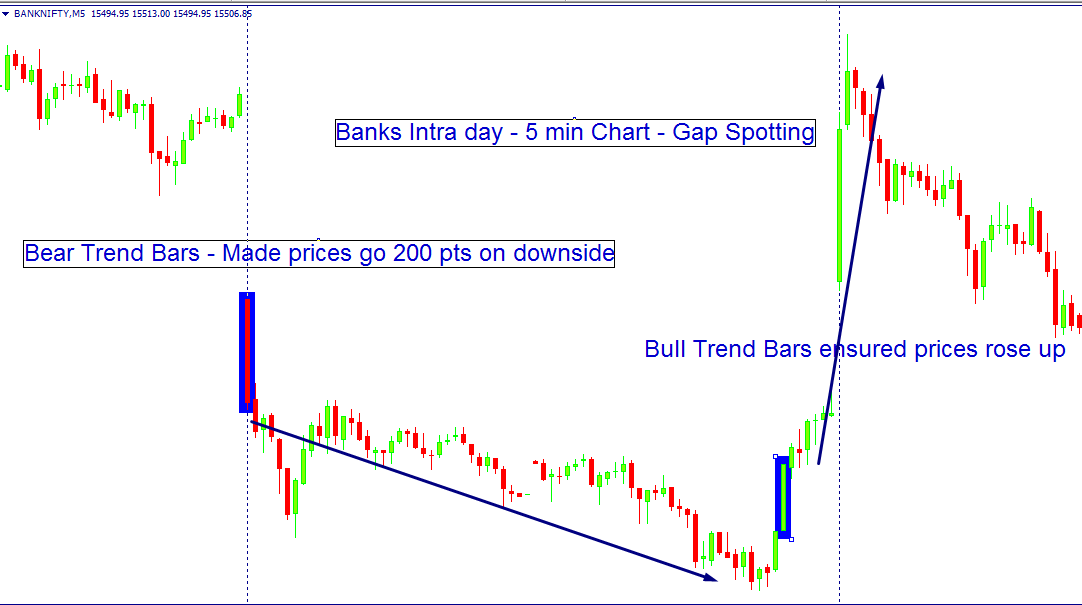 In the above example you could see how prices moved after Trend bars came. In technical Analysis we dont use a pattern just like that and buy or sell. We see the context in which a pressure bar is forming.
Lets assume market has been in downtrend and near a good Support, where we start seeing Bull Bodies in the form of trend bars we can be assured that the bulls are buying at support and bears booking profits at support. This when used with the over all context can be beneficial information to the trader.
An intraday gap can come in variations.
1) Breakout Gap
2) Continuation Gap
3) Exhaustion Gap
Breakout Gap are pressure bars which breaks because of a pattern supporting it. Continuation gaps are gaps which comes half way in the trend. This is our bread & butter Entry technique in Intra day context. As I am assured another 50 % of the swing is remaining. Exhaustion bar is the final bar where we book profits.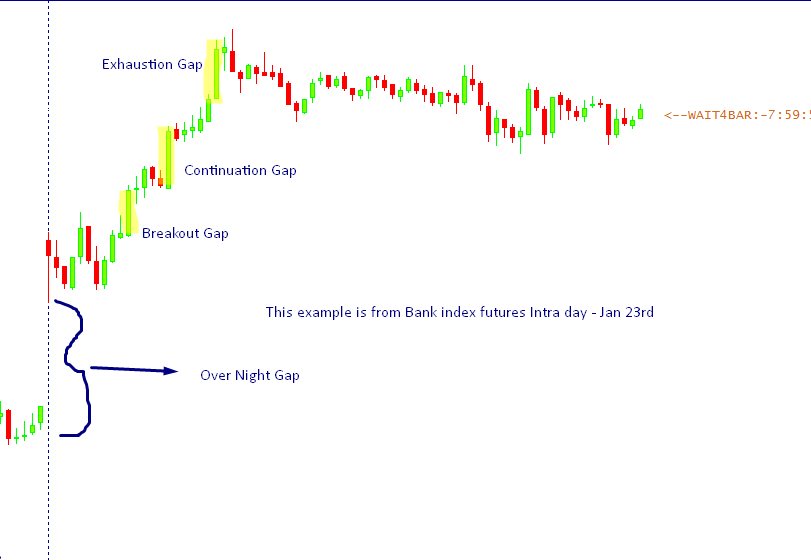 Much can be discussed about Gaps, Gap trading is an art by itself. Visit member section for more details.
for any queries use the contact form , I teach Advanced Price Action Course one to one. Incase you are interested
you can call/watsapp @ 7373339777 for more details.
Happy Trading and Learning
Cheers !!!
Your email address will not be published. Required fields are marked *