Performance Report of Bank Nifty Price Action trade from June 8th 2018 till July 12th 2018 .
Professional traders need to have solid system to trade the Markets. Most people think by using a stochastic or MACD cross over or any other indicators and using indiviual candlestick like bullish engulfing can help them make easy money. It takes more than that to develop a solid system. Price Action is the hotline for traders. You need to have money management plan even if you have a solid Backtested strategy. And overall discipline to follow it over x period of time.. Only then you can call yourself as a trader.
The Below details are the performance report of Bank nifty Trades from june 8th till july 12th 2018
The Capital Considered is 2 lacs, lot size is 5 lots of Bank nifty Futures. 5 lots are too higher risk for a capital of 2 lacs. Since this being Price Action system and Exit management is done, I used maximum draw down possible formula to understand lot sizes on an optimum Basis.

The Brokerage / tax of 8.75 points per lot (40) has been deducted in the Report. Use Discount Brokerage

Slippage of 5 points average per lot (40) has been deducted.

Deducting 15 points per lot irrespective of wins or losses.

Bracket order to be used for high Leverage. 1 lot can be traded with 12,500 – 13,500 rs

No Partial Booking is considered. As that will have a negative implication when stop loss hits.
For Example you decided to do Banknifty with 2 lots with an average sl of 75 points, now lets say you decided to book partial profits for 1 lot at 50 points, and for 2nd lot you are booking profit at 100 points ( average ) . Your net point is (50 + 100 )/ 2 = 75 points. But if 1 sl hit you will loose 75 points on 2 lots. So if you hedge naturally your returns will go down. This decision to Hedge or not totally depends on the trader personality.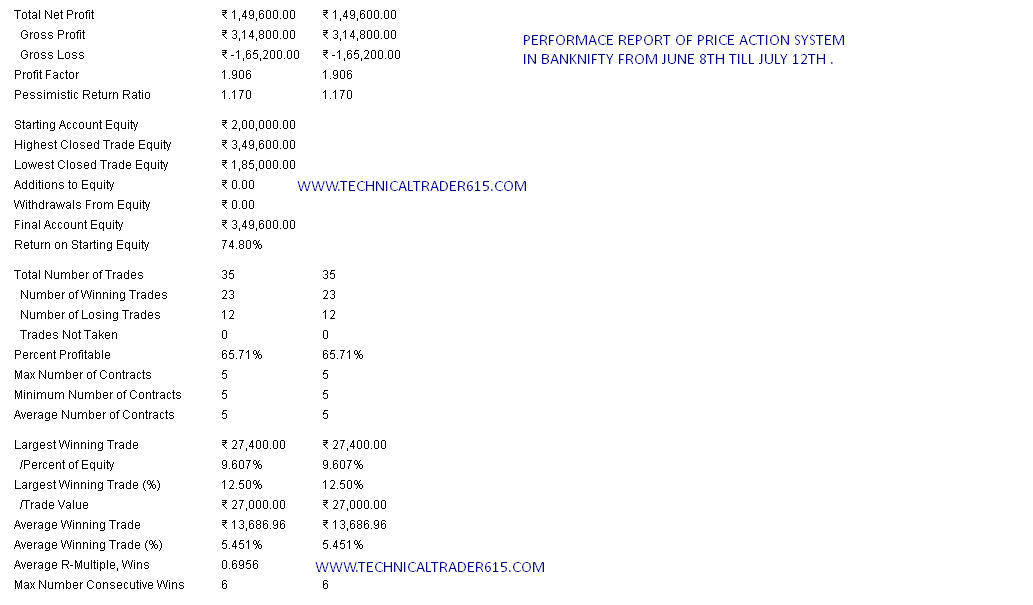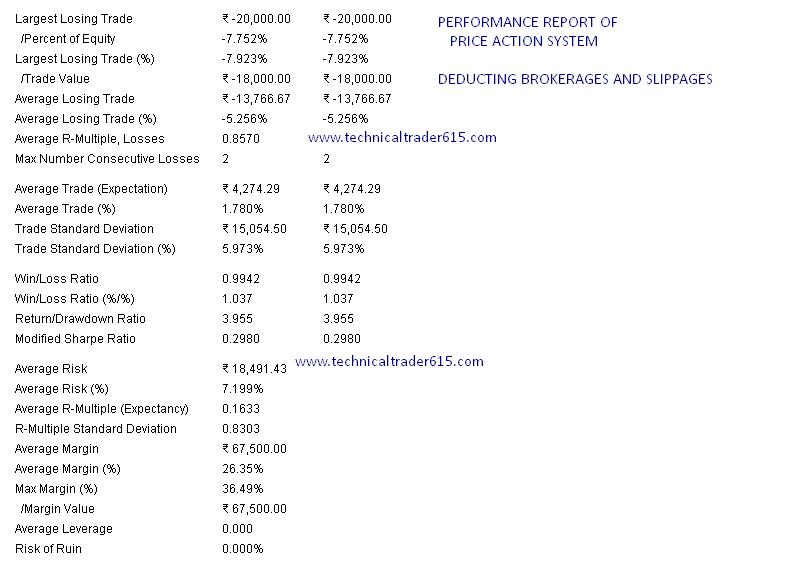 Below is the Equity Curve of the Same.

If you want to learn Advanced Price Action Strategy you can call /watsapp me at 7373339777 or 8508777733
But if you want to learn Money Management and Position sizing you can take up my core position sizing course. Even if you have the greatest system in the world and if you dont know how to position size , it means you are not effectively using the system. This course is for full time Professionals and for traders who have a running system in hand.
for more details on price Action click the link Below
http://www.technicaltrader615.com/price-action/technical-chart-analysis
Happy Learning and Trading !!!
Cheers !!!
Your email address will not be published. Required fields are marked *